I am a big advocate of the lo-fi, natural approach in photography. Especially when it comes to new little humans. I turned up to Nicola and Lee's house with just my camera, and one lens. No pre conceived set ups, lights, reflectors, props, or costumes... Nothing. As a result, these photos are full of character and personality, and thick with the feeling of those first precious weeks at home; intimacy at it's most real.
We can often put lots of thought and planning into shoots, and shots. We can lean back on the props and the plans, or manipulate a scene as much as possible. But I wanted to show you just how little you need, to capture something really gorgeous with your family.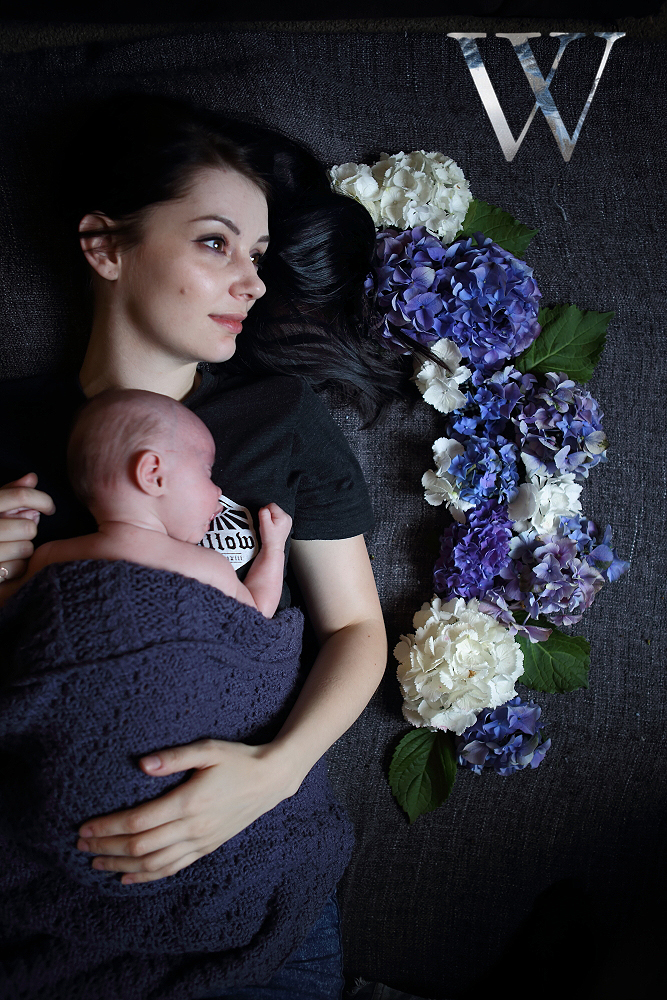 Natural light, you beauteous thing you. However small the source, it always bathes tiny babies with just enough glow; their delicate, transparent skin sits comfortably in it's rounded illumination.
The greyish softened light which sunk in through the window, from cloudy skies, seemed to float down over Felix like a feather;
barely touching him. The dark grey throw, which we grabbed off the sofa, smoothed out the floor and cradled his fragile head. With such young babies, I find the texture of their skin is always best shown against other natural textures and neutral tones; knits, fabrics, flowers and the hands and arms of their parents; in this case,
even the hydrangea's iridescent centres, reflected the subtle changing of his eye colour.
The magic moment for me though, was when Lee jumped down onto the floor for a cuddle. Felix had gotten super comfortable on Nicola's chest, with his arms draped down either side of her. Lee brought his arm right around all of them, and pulled them all in close,
a big mush of faces and hands and arms all entwined. Magic.
It was at this moment that the little boy's name seemed most apt; in the arms of both his parents; fast asleep and loved, and embraced.
His name Felix, stems from the latin for 'lucky', or 'favoured by luck'.
And this little man, is indeed, so very lucky.
I've said this before, but I'll say it again: The aim of my baby photography is to:
"...nestle myself and my camera, shoulder to shoulder with the organised chaos of domestic life;
gently looking over and around the realism of what it means to be (and to parent) such a young little one.
I don't want to tidy this away, or to filter it out..."
I also found this quote recently, from writer Jess Lair, which seems to perfectly sum up my attitude toward photographing children.
"Children are not things to be molded, but are people to be unfolded."
Thanks again to Nicola and Lee, who have been so trusting in having me document these moments. I cannot wait to continue to follow your story, and photograph Felix as he grows and develops in character. Take a look at the baby bump shoot we did not long ago. The story continues!
GWx