This week we flick back to a recent shoot with talented band, The Mardy Johnny Depps. They describe themselves as "an energetic, foot-stomping, acoustic duo". Personally, as someone who loves their performances out here in The Alps, I'd agree. But this shoot was note-worthy, from my point of view, because I had to shoot them as two musicians who work together, and not the adorable couple I know. I've also included a little Q&A with Mark & Amy, so be sure to have a read.
Much of my camera time is spent searching out loving chemistry. When I am seeing the world through my lens, I am generally searching out moments of raw character and chemistry.
These moments, in human interaction, are often filled with emotion.
If you capture that emotion, generally speaking (in my line of work anyway) it is love in some form. So tell me this.. how do you photograph a couple, who are both together in life and together in music? How do you capture them at their most relaxed, and their most honest, without turning their band shoot into a couple shoot?
Well, I got lucky. Mark had mentioned that he was not super comfortable being photographed. I asked him when he felt completely at ease, and without a seconds hesitation, he replied "When I'm playing music". So quite simply, we took to the woods in the mountains, and had our own impromptu acoustic gig. It was pretty magic to be honest; the sun breaking through the evergreen trees, which rose up majestically around us;
little snippets of snowy mountains peeked through the gaps in the woods, and the snow sat glittering like set meringue.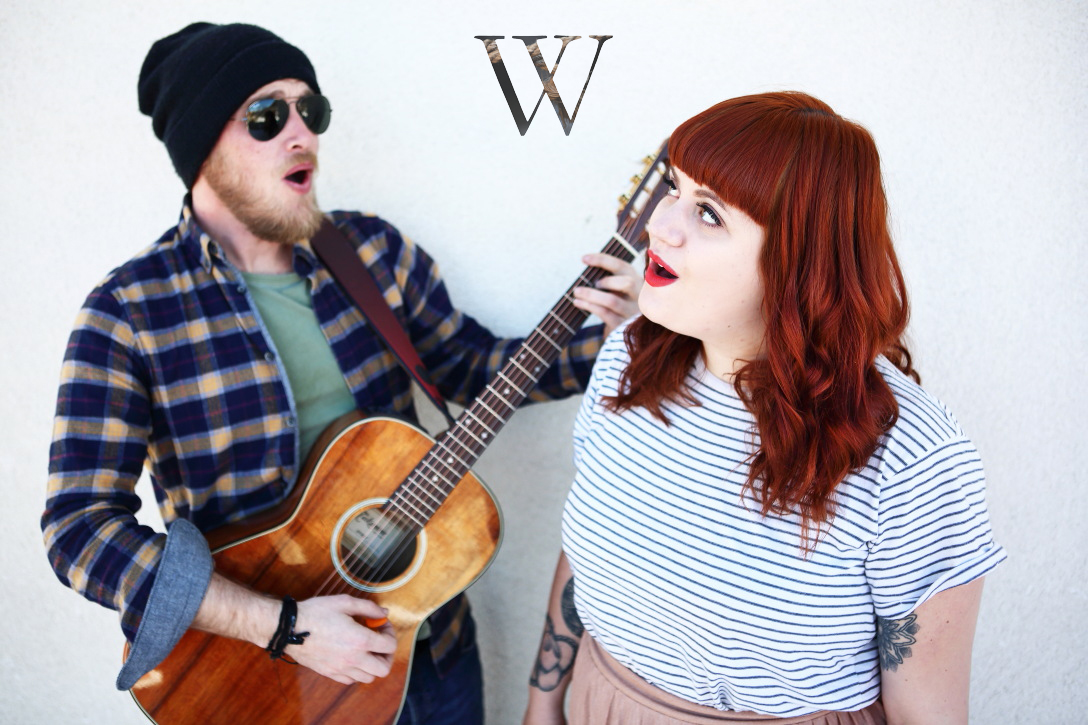 Having them sing and perform in this casual setting, clearly helped them, but how did it help me?
Simple.. When they played together, and when they sang, they seemed to inhabit a completely different space. Amy sings like she's floating on slightly different plane to everyone else, and though I recognise the look of support and connection in Mark's eyes, it's more artistic than it is romantic. They seem to have an understanding;
an unspoken connection which transcends even the intimacy of romantic connection.
This fascinated me whilst I was shooting, and even more when I was editing.
The photos, for me, feel alive. And the more comfortable someone is with the camera, the more alive they feel in the shot.
Lost in the absolute present moment of performing, and working together, they are entirely alive.
It reminded me that connection and chemistry are multi-faceted. You can lose yourself in following umpteen wedding photographers, and their notions of romance. But truly, honestly, how often in a day are you this deeply reflective and romantic with your partner?
There are so many other spaces we share with the people we love, spaces which are just as filled with emotion and life.
Basically, I always trust the people I shoot, more than they realise.
They think they have to trust me, but really, I just create the situations and leave the rest up to them. I always trust that people, given the right context, will give me way better photographs then I can pre-imagine.
For the first time on the blog, I decided to give the people in my photos a voice. I thought it might be interesting to get some insight from them, as musicians, on why they needed/wanted these pictures, and how it went for them.
(TWS: The Wardette Studio, MJD: Th Mardy Johnny Depps)
TWS: Why, would you say, do a musician/band need professional photographs?
MJD: We've found that venues and promoters use photos on posters and social media to advertise our gigs whether they have been taken by a pro or not, so we wanted to give them some good shots to work with rather than blurry phone photos or outdated shots.
TWS: Are there any major pitfalls to avoid with musician/ band shoots? Anything you were particularly worried about/ wary of?
MJD: We didn't want the shots to be overly posed, and we were wary of feeling uncomfortable in front of the camera. Because we're a couple we didn't want it to look like a poser engagement shoot either, it was important for us to get the instruments in too.
TWS: How should one go about choosing a photographer? how did you choose yours?
MJD: We'd seen the work Gemma has done from The Wardette Studio and I knew we were in good hands. We had a good chat over a cuppa a few weeks before the shoot to make sure we were all on the same page with what we had wanted to achieve with the shoot.
TWS: How did you feel going into the shoot? nervous? excited? unsure?
MJD: We both felt pretty nervous as this was our first proper shoot. We were lucky with the weather and with Gemma's help we had a few really good ideas for locations so we're excited to get the shoot underway.
TWS: How did the shoot go, and how did it feel working with the photographer? Any tips on how to approach it, and how/ when did you feel most comfortable during the shoot?
MJD: I think the chat we had before the shoot ended up being very important. Mark was apprehensive about having photos taken away from the 'live' setting but after discussing this with Gemma, we decided to use the guitar and simply sing through some songs as she shot away. It put us both at ease.
TWS: How were the results? did anything surprise you?
MJD: The results are better than we could have ever imagined. The scenery and colours in the photos are stunning.
TWS: Could you describe your favourite memory from the photoshoot? And pick your absolute favourite shot?
MJD: Right at the end of the day, we were pretty cold and had been shooting for a few hours by this point, we went for one last location change up at the Altiport in Meribel and as we were singing away, a low flying plane took us by surprise. That photo came out great!
TWS: Now that you have your photos, what would you say to musicians who are considering, or avoiding, pro photography.
MJD: Go for it! We love our photos and had a ball doing the shoot
Huge thanks and high fives to the awesome Mardys, Mark and Amy, for trusting me with their musical likenesses. You were a total joy to shoot. Should you ever want to play another secret impromptu acoustic gig in the woods, I'll always be available to take photographs!
Go check out their Facebook and website, and see if you can catch them during their winter in The Alps, or their summer in Ibiza.
GWx